In December 2021, pupils and staff from Ysgol Y Deri were shocked to discover the theft of their beloved surf and SUP equipment that was stored within a trailer on the school grounds. Much of the kit was bought following a previous fundraising event, and some of it was unused, waiting for the Spring of 2022 to launch.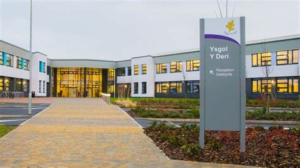 After spotting the coverage on the BBC, the management at Mobilise some of whom are keen surfers decided to donate £5,000 to the school to help with replacing the stolen equipment.
"After making the donation, I was thrilled to be invited to have a tour of the school; it is a very special place. The joy of the place struck me. Both staff and pupils were obviously happy to be there and there were so many activities going on" said James Carnie CTO of Mobilise.
James got to see various facilities from advanced catering, to immersive technology, a radio station, therapy rooms, gardens with animals, climbing walls and many more.
"Despite not being in mainstream education, the children supported by both staff and fantastic facilities were able to achieve amazing results. It is clear that the perceived barriers that exist for children with disabilities were being smashed."
Mobilise would like to say a big thank you to all the staff especially Marie-Claire Watt who arranged and showed James around.
Please donate to this great cause. We'll be posting an update once the kids are back out on the water.
https://www.justgiving.com/campaign/SUPandSurf?invite=true