Providing solutions to the digital skills shortage is our core business focus. To remedy these challenges Mobilise has taken a three-pronged approach:
Your Journey, aimed at developing our colleagues,
Future talent, aimed at rapidly upskilling new recruits with complementary skills, and
Academy, giving participants mentoring and training so they are reskilled and potentially ready for entry level roles at Mobilise or other organisations.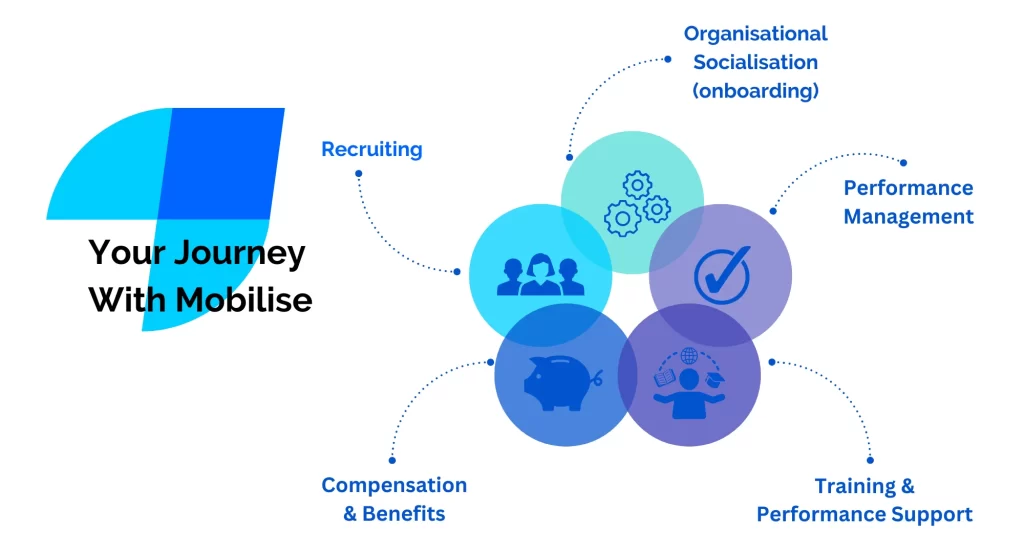 Your Journey – developing our colleagues
The "Your Journey" program is a cyclical process to allow our colleagues to focus on Objectives and Key Results (OKR), learning paths (via our online learning platform) and demonstrable practical experience.
This program is measured against the Skills for the Information Age (SFIA) framework. This ensures we develop clear learning and development pathways, enabling our colleagues to develop the key skills and understanding to progress against the SFIA levels. The aim is to ultimately provide exceptional support to our customers.
Future Talent – multi-channel recruitment and effective development
Supported by the "Your Journey" program we have re-evaluated and enhanced our recruitment process. We have facilitated this by expanding our partnerships with progressive program providers that have a focus on addressing the digital skills gaps, such as AWS restart; FDM and E-careers.
We have also created programs for developing colleagues who have re-skilled or are at an early stage of their digital careers, as well as continuing to attract experienced candidates. To effectively develop our colleagues understanding and confidence, we have created an "Academy" environment, that allows for continued support and a learning environment so they are primed and ready before they begin work with our customers.
We have taken an approach that we can develop colleagues that demonstrate the right aptitude to learn digital skills. We assess this via psychometric assessments and technical tests. We also ensure that we are attracting a diverse candidate base, through introducing an applicant tracking system that allows us to anonymise our applicants.
Mobilise has also developed a remote first working culture, which has allowed us to expand out talent pool across the UK.
Academy – generating skills early to improve entry level skills
Our "Academy" provides a 12-week training program, that allows participants to gain an understanding of AWS, technical requirements, and to speak to our talented internal team for support and guidance. Academy members are supported with weekly workshops, labs, 1-2-1's, and access to clear learning paths, developed through our external learning platform.
This is a free course open to anyone and is ultimately designed to provide academy members the path to complete the AWS solutions architect associate exam.
The Academy does support Mobilise in developing a talent pool, however we are also keen that candidates develop their skills and understanding for other opportunities outside of Mobilise. The next "Academy" campaign will be circulated in March 2023, with the next intake of applicants expected to start their training end of April/early May 2023.
Continuous Improvement
As an organisation one of our key values is that we continuously improve. In terms of the digital skills gap, we maintain relationships with our partners to fully understand and keep connected to the ever-changing challenges the digital skills gap is creating.
Our learning platform is continuously updated with new content around technology, from industry experts, and as such ensures that we can adapt to the changing needs of technology and digital skills requirements.
Creating continuous feedback loops, from both our colleagues and customers ensure we are focussing on the right areas of improvement. Continuously review of best practice, and sharing ideas, thoughts, and feedback with our customers, means we continue to learn as an organisation.