It's that time of year again, when Amazon Web Services put on their huge conference, AWS re:Invent and deliver updates on their latest services. This year however is a little different – with the global pandemic, Amazon have been forced to put the conference online.
With remote working now becoming a necessity through the global pandemic we thought it would be useful to highlight some of the new features that AWS have released for their Cloud Contact Centre – Amazon Connect.
This year Amazon went all out with Connect – delivering a whole host of new exciting features that will revolutionise the way businesses interact with their customers. Amazon Connect has already established itself as an industry leading contact centre with deep integrations into AWS services, intuitive UI interface and pay as you go pricing – now it's just got a whole lot better.
Contact Lens – the service behind Amazon Connect that powers machine learning insights, call transcription and sentiment analysis has just been upgraded, so let's take a look at some of the new features…
Some features are in preview and will be rolled out in the coming months
Real-time analytics
Building on top of the work that was released during last years conference re:Invent 2019 – Amazon have taken Contact Lens features and made them available in real-time. This means that agents can now detect customer issues during live calls and work to resolve them faster.
Call Centre Managers can now define a set of rulesets to apply to calls that can alert agents and managers when
Certain speech patterns are matched,
Volume levels are raised or
Specific language is used
For example – a rule could be setup to analyse calls for the keyword 'cancel my policy' which would generate real-time alerts to managers within the Connect real-time metrics dashboard. This could lead to the manager reviewing the call, listening in live and potentially assisting the agent. When the call is passed to another agent, a complete transcript of the call is available upto that point so the customer doesn't need to repeat themselves.

What's more, contacts can now be tagged so they can be aggregated into specific categories. For example, if an agent forgets to mention a PCI compliant message, the contact can be tagged 'missed-agent-pci'. This allows Call Centre managers the ability to identify and group contacts to improve agent training and visibility. Through semantic matching, contacts can be tagged without even mentioning the specific keywords in the ruleset! Using an ML-based intent matching model, Connect is trained to understand context and meaning of keywords enabling it to catch more cases than explicitly defined by a Call Centre managers.
Now available in US West, US East and Asia Pacific.
Customer Profiles
Amazon Customer Profiles aim to provide agents with a holistic view of their current transaction, enabling a more personalised customer service experience. By bringing customer information from multiple applications into a unified customer profile at the start of each call – agents should have all the information they need to begin a more personalised call.
This is achieved through integration with third-party applications such as Salesforce, ServiceNow, Zendesk and Marketo as well as the historical records available through Amacon Connect contact trace records. Amazon AppFlow can also be utilised to extend this integration to 15 other SaaS offerings.
Generally Available
Tasks
Amazon Connect Tasks aim to improve agent productivity by allowing contact centre managers with the ability to prioritise, assign and track customer service tasks. Call centre managers can create tasks and assign them based on an agents skill set, availability and information about the task.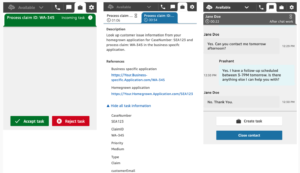 These tasks appear in the agents CCP next to their existing calls and can provide a preset list of information including links to further systems or knowledge bases. Managers can also automate tasks that don't require agent interaction, like notifying a customer when their claim is processed and a refund has been issued.
Tasks also provide built in connectors that integrate with third party applications like Salesforce and Zendesk.
Generally Available
Apple Business Chat Support
Amazon Connect have now added support for Web Chat so that any Apple Messages App user can interact directly with the Connect service.
Anytime an iPhone user clicks to call your contact centre, they're presented with an option to chat over Messages instead and begin interacting with the Connect service as if it was a friend or family member.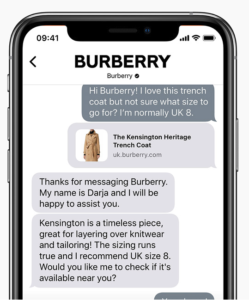 Available in Preview
Amazon Connect Wisdom
Wisdom builds on top of features such as Amazon Kendra FAQ integration to provide a real-time knowledge base integration service. By linking Amazon Connect with various datasources such as FAQ's, Knowledge bases and documents – Amazon Contact Lens can analyse calls in real-time and offer agents suggestions on sources of useful information. For example, if a customer calls and mentions they're having trouble using your online returns service – Contact Lens will automatically bring up an article for the agent to walk the customer through the returns service.
Available in preview in US East and US West
Amazon Connect Voice ID
One of the biggest problems that faces Contact Centres is how to authenticate and authorise customers to perform actions or discuss sensitive information. This is usually done through a series of security questions that an agent asks a customer – who must pass all before being allowed to proceed further.
Amazon Connect Voice ID provides real-time caller authentication that makes voice interactions in contact centres more secure and efficient. Using machine learning a customers voice is analysed to detect voice characteristics such as speech rhythm, pitch, intonation and loudness to create a unique digital voiceprint. When the customer calls back, Voice ID compares the callers voiceprint with the one on record and provides a real-time authentication decision based on a customised threshold.
Available in preview in US West
Interactive Messages
Amazon LEX now enables customers to select options in response to questions to increase chatbot accuracy, reduce customer friction, and increase self-service rates. For example, customers can choose their preferred appointment time from a list of options by simply clicking on it and agents see the history of the chat when customers are transferred to an agent.
Generally Available
Cost Reductions
Amazon continue to reduce costs across the globe, with new reductions in 10 Latin America telephony rates.
For a look at how Amazon Connect creates intelligent call centres including a demonstration of some of it's services please see our video below.