I am Jack Somerset, in this article, I will be giving an overview of my experience since joining Mobilise Cloud as an entry-level DevOps Engineer.
First contact
I initially came across Mobilise Cloud when a former colleague joined their team a few years back in their earlier days. I really liked the look of the work they did, so it was one of the first companies I reached out to pass on my CV to when I was back on the job market. There weren't many opportunities around at the time due to the dawn of the great Coronavirus pandemic (it was March of 2020), but I was happy to know I was on their radar.
A few months later, I was contacted by Adam Davies from Mobilise Cloud (Operations Lead) about a new position they had in the DevOps space. At this point, I was employed by another well-known IT MSP and was very happy with where I was too. This left me feeling quite hesitant about abandoning my current role, especially with the volatility of employment opportunities at the time. Nevertheless, I was happy to discuss the role with Adam at the very least, especially since he seemed so approachable and easy-going for a high-ranking member of the company.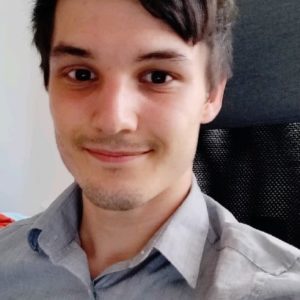 After a couple of phone calls and a bit more detail about what the job would entail, I was sold. Despite being very content with my current position and not having much experience in the type of work I was being recruited for, I was reassured that Mobilise had a strong focus on the person they were hiring and their potential, rather than the list of skills they already had before joining. This is what made Mobilise really stand out to me, as I could tell they really cared about the people they brought on, rather than just their abilities, an approach I hope to see many other companies take when bringing on new staff.
Interview process
The interview process at Mobilise was the least formal I have experienced in any business. This was a pleasant change from the hiring process I was used to, as I felt more relaxed and could present myself in a more personal manner. This allowed me to articulate what I was saying with ease and without getting all flustered, something that can happen all too easily in a typical, tense job interview. This resulted in a much better experience overall, as I felt like I was having a conversation with real humans instead of recruitment overlords that were judging my every syllable.
Onboarding
I felt very well-catered for when I first started. I had some experience administering "generic" IT infrastructures in AWS, consisting of virtual servers and desktops, storage facilities and general networking/security. Still, with no background in programming or development, the concept of Terraform and Infrastructure as Code was completely new to me. Because of this, I was not expected to be working with clients immediately.
After an initial introduction to the company and an overview of what they had going on, I began my training. I was mostly left to my own devices once I got started but was made aware that one of their most experienced consultants was at hand to answer any queries I had if I had any questions or issues. Since this area of work was still pretty new to me, I had a fair few questions along the way and was offered extensive help and insight without any mention of time consumption or being busy with something else. I also was not given a time limit for my training or frequently had my shoulder looked over to make sure I was performing well enough. I felt that the lack of pressure in my first couple of weeks allowed me to work at my own pace and take the time to pick things up more thoroughly, which resulted in a much better learning experience overall.
Equipment
Due to joining Mobilise in the middle of lockdown, I have been working entirely from home since starting. To keep things as safe as possible, I was told that they would rather I didn't come into the office, even to collect my kit. Instead, I had my work laptop delivered right to my front door. At this point, I was pretty accustomed to working from home, as I had done so for both of my previous jobs, so I had a home office already set up. Despite this, though, I was offered virtually everything I could need; a mouse and keyboard, additional monitors, even a whole desk and chair to use at home. On top of this, I was told if I needed any additional gear such as adaptors, I could log the expenses, and all the costs would be covered.
Welcoming
Being welcomed into a new workplace is a pretty strange experience when you don't actually meet anyone you work with face to face. However, I felt a strong sense of community at Mobilise despite this. An introduction message was added to the company's internal communications app, and I instantly had a heap of welcome messages coming in from the rest of the staff.
Once I had worked through some basic training to get the gist of the tools we used, I began my client work by shadowing one of the more experienced consultants. This consisted of regular calls and screen sharing, which was a good way to create a relationship with other staff beyond sending messages back and forth. At first, I was following along with the work that they were carrying out, with plenty of time for explanations and questions along the way. Once I started getting a better idea of how things worked, I was delegated some of the simpler tasks to carry out independently, which really cemented in the explanations I had been given up to this point. Over the weeks, I found myself able to do more independently, and it wasn't too long before I could take on pieces of work completed on my own.
In other workplaces, I have been on both extremes of the scale. I have found myself being left with mundanely simple and boring tasks and feeling completely out of my depth in other situations. At mobilise, I felt that the transition from complete trainee to carrying out client work was just the right balance between a healthy amount of challenge and not feeling stressed from being under more pressure than I could handle. As with the training, I have always been offered help whenever needed, and I have never been critiqued or looked down upon for any accidents that have happened along the way. Everyone makes mistakes, and the Mobilise team understand this.
Work environment
As previously mentioned, I have yet to see the Mobilise office in person due to joining the company in the middle of lockdown. Despite this, though, I feel that I have had a lot of interaction with the other staff members. There are frequent discussions in group chats, both for collaborative working and informal social conversations.
As a result of the influx of home working due to the pandemic, Mobilise has decided to take a hybrid approach to their working environment in the future, meaning in the post-covid world, the norm will be to have a mix of working from home as well as in the office for collaboration. For me, this is the best of both worlds, as I enjoy workplace interaction and getting out of the house. Still, with my commute being nearly an hour on the motorway, the option not to have to do this 5 days a week is a huge benefit that saves time and money and is more environmentally friendly.
Mobilise also have a bi-weekly quiz, which is a chance for the staff to all be on a call together, have a bit of chit chat, and engage in an activity that isn't work-related. There is also a monthly update on what is going on within the company, that covers new clients, new starters, individual achievements and current performance of ongoing projects. All in all, this creates a real sense of inclusion in the company and breaks down any perception of hierarchy beyond the responsibilities of each person's job role.
Conclusion
In conclusion, I have thoroughly enjoyed my time with Mobilise and hope to be part of the company for some time to come. I enjoy both the work itself and its approach to its clients and its own staff. I feel like I have learned so much in the short amount of time I have been here already, and there is so much more to come, especially with the inclusion of fully-funded training and exams for industry-recognised certifications, which are invaluable to building a career within the Cloud and Computing sector.
There are a number of roles available at Mobilise Cloud, have a look or share with someone you think will be suitable: https://www.mobilise.cloud/careers/